shaft oil seal tc5.5*16*8
Size: 5.5*16*8mm
Good sealing performance
Easy disassembly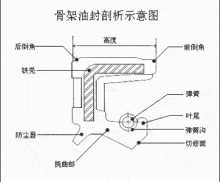 PRODUCT DESCRIPTION:
The representative form of oil seal is TC oil seal, which is a double-lip oil seal with a self-tightening spring completely covered by rubber. Generally speaking, the oil seal usually refers to this tc skeleton oil seal. Refer to the schematic diagram of the skeleton oil seal.
Common materials for oil seals are: nitrile rubber, fluorine rubber, silicone rubber, acrylic rubber, polyurethane, polytetrafluoroethylene, etc.When selecting the material of the oil seal, it is necessary to consider the compatibility of the material with the working medium, the adaptability to the working temperature range, and the ability of the lip to follow the rotation axis at high speed.
Application :
Engine: Crankshaft--Crankshaft front and rear oil seal valve--valve oil seal (engine repair kit o-ring) (distributor oil seal, water pump oil seal, balance shaft oil seal, oil pump oil seal ...); camshaft--camshaft oil seal Transmission: Transmission-front and rear oil seal shift lever oil seal (transmission repair kit o-ring) (transfer case-front and rear oil seal of transfer case); rear axle: half shaft-rear half shaft oil seal difference Speeder-(Front) Rear corner seal, rear wheel oil seal, front wheel oil seal, directional machine oil seal (steering machine repair kit o-ring), direction booster oil seal (front axle oil seal)
Address :No 88, Dikou Road .Tianqiao District. Jinan 250031 , Shandong Province (China)